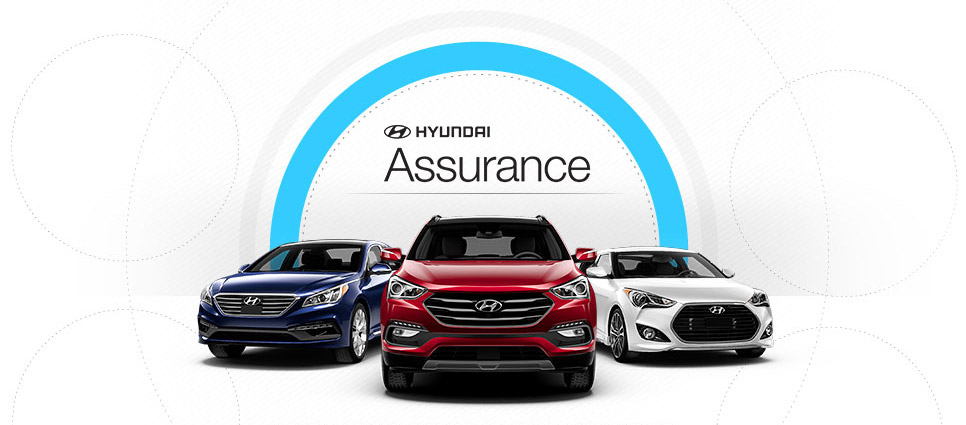 When it comes to selecting a car, warranties are the true mark of quality. Any automaker can make bold claims about how sustainable, durable, and convenient their vehicles are. A warranty shows that they are willing to put their money where their mouths are, backing up their bold claims with the promise to pay for unmet expectations. It is thus no small matter that Hyundai recently announced a generous warranty program. With the Hyundai Assurance guarantee, you will have comprehensive coverage if your vehicle is anything less than excellent.
An Array of Assurances Rolled into One
Hyundai Assurance is not a single warranty so much as a collection of generous guarantees for different parts of each vehicle. Under it, new and recent Hyundais come with:
Battery Bolstering- Hyundai provides an unlimited lifetime warranty on the batteries for hybrid vehicles. There is also a secondary warranty on the battery's accessories, including the automatic transmission, the starter, the generator, and the power control unit; this coverage lasts for the first 10 years or 100,000 miles.
Powertrain Preservation- The Assurance program pays for any repairs to the vehicle's powertrain, as well as full replacements, that occur within the first 10 years or 100,000 miles of driving.
Emissions Control Enhancements- For the first 80,000 miles or 8 years on the road, Hyundai covers key emissions control equipment, namely the catalytic converter, the onboard emissions diagnostic device, and the engine control module. Other parts related to emissions control have coverage for the first 5 years or 60,000 miles.
California Complements- California places additional emissions control requirements on vehicles that operate in its borders. For vehicles that meet these specifications, Hyundai covers repairs and replacements to the equipment necessary to meet them for 70,000 miles or 7 years.
Protection Against Perforation- This warranty covers the effects of perforation, or rust that extends through both sides of the body panel, that results from defective materials or factory workmanship problems. It does not cover corrosion that is limited to the surface. This guarantee lasts for 7 years and is not limited by the number of miles driven.
Roadside Assistance Reinforcement- For 5 years after the vehicle goes into service, the Hyundai Assurance program covers 24-hour roadside assistance services. This coverage is not limited by the number of miles that you drive.
General Guarantee- For the first 60,000 miles or 5 years, Hyundai covers general repairs and replacements for any components damaged due to poor factory workmanship or faulty materials. This warranty is shorter on certain components, such as paint and brake pads.
Accessory Assurance- The program covers components that qualify as replacement parts or accessories for the first 12,000 miles or 1 year that your vehicle is on the road.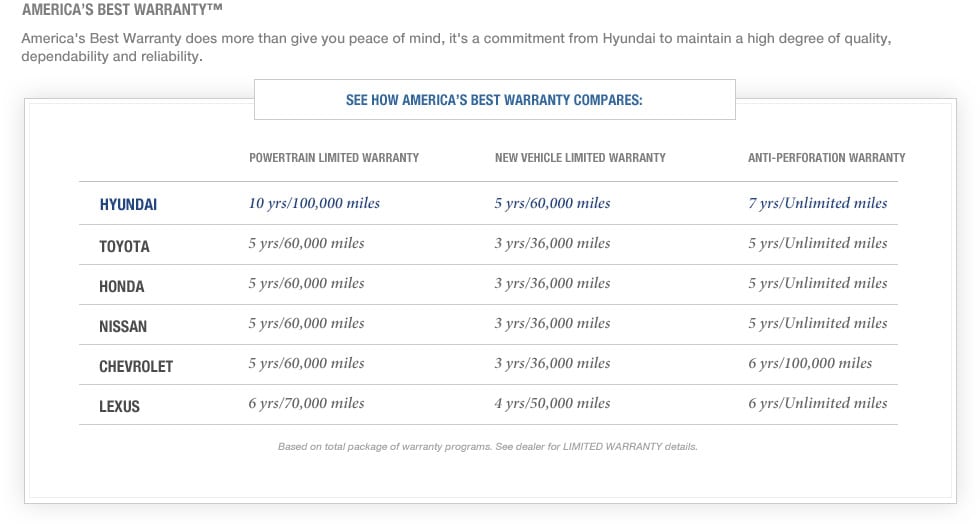 Hyundai's willingness to cover its vehicles so comprehensively sends a message that these cars are built to last, and that service issues will be rare. For more information on all the company has to offer, contact Fort Mill Hyundai today.