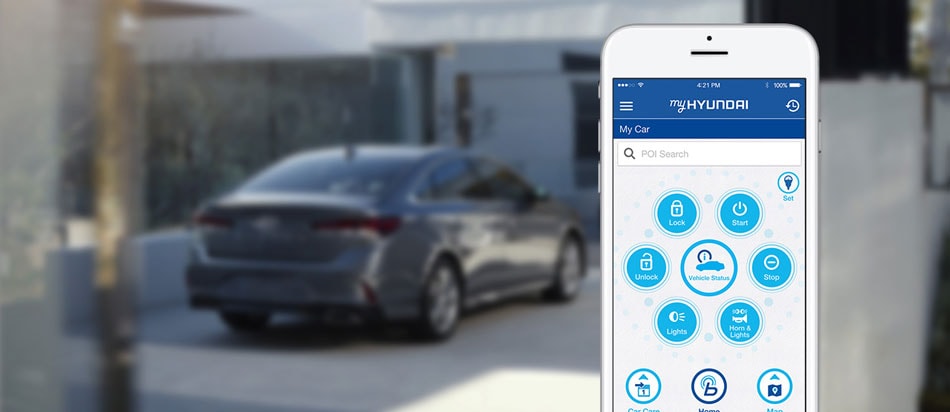 Buying a new vehicle is a big decision. You not only want to make sure that you find one that looks good but now you also need to make sure that you get all of the technology that you want and need inside it. Technology makes your life that much easier and it makes the vehicle more enjoyable in general. Because of this, you want to make sure that you do your due diligence and research all of the available technologies in the vehicles that you are considering. If you are looking at a new Hyundai for your vehicle, then you have likely found technologies called HomeLink and Blue Link. While these two may sound like they are similar, they are actually very different technologies. To make sure you get what you want, it is important to know the difference between the two.
Hyundai HomeLink
Hyundai HomeLink is a technology that allows you to connect your garage door and your community gate to your vehicle. That means that you can get rid of the openers in your vehicle and you no longer have to have the bulky items in your way. You can use the HomeLink system to get in and out of your home in the easiest and most convenient way possible. In a Hyundai vehicle that features this technology, you will find the buttons to operate it on your rearview mirror. These buttons can be programmed so you can remotely activate an electric garage door or gate. This has never been easier and you will enjoy the convenience.

Hyundai Blue Link
Blue Link is a completely different type of technology from Hyundai. Instead of it connecting you to your home garage door or gate, it serves as more of an emergency telematics system. Additionally, it does so much more by keep track of your vehicle's stats and even helping you schedule service when the time comes. It can offer you remote access to your vehicle as well when you have a compatible device, Wi-Fi, and a data plan. The Blue Link technology is split into three main categories which are:
Connected Care - This is a bundle of different services including emergency assistance on the road when needed, automatic collision notification, monthly vehicle heath reports, and more. If you are unable to call for help, Blue Link will do it for you. Because it also keeps tabs on your vehicle, it is easier than ever to schedule any services that you need.
Remote Access - You can use the Blue Link app to connect to your vehicle and do things such as remotely start the vehicle, remotely lock and unlock the vehicle, and even access stolen vehicle recovery in case that happens.
Destination Search - Never got lost again with Blue Link. The system allows you to search for an address, send destinations from your phone or computer to your vehicle, and even add a point of interest. Navigation is seamless and easy.