When you think of advances in automotive technology, what nameplate comes to mind? If it isn't Hyundai, it should be. The South Korean automaker has been filing patents at a blinding pace, quickly catching up with industry leaders in terms of patents filed. In fact, according to a Reuters report, Hyundai has had a greater increase in patent filings than any other automaker over the past five years. Hyundai was among industry leaders in every category considered in the study (entertainment, propulsion, safety, navigation and handling).
Hyundai's innovative spirit hasn't gone without notice in the industry. J.D. Power recently ranked Hyundai and BMW as the tops in their respective classes for customers' satisfaction with their cars' technology. If we may say so, luxury automaker BMW is not exactly bad company to keep and it appears that Hyundai is poised to continue leading the mass market category in innovation for some time to come. For car buyers who want the kind of top of the line tech features you expect to find in the world's finest luxury cars, but who want to stay within a manageable budget, it's hard to beat all that Hyundai brings to the table.

The J.D. Power survey considered car buyers' satisfaction with the tech features in their vehicles three months after purchasing the vehicle. It considered aspects such as entertainment features, connectivity, comfort, convenience, navigation, safety features and ability to use smartphone apps. While Hyundai did well across the board in the survey, the big standouts were the Tucson in the small vehicle category and the Genesis in the mid-size premium category.
While Hyundai has always delivered a vehicle with tech features that stood up well against their competition, they were a little slow to realize how critical it is to file patents for new technology, according to intellectual property attorney Jung Dong-joon. The uptick in patents filed shows their commitment to deliver cutting edge technology. At present, they trail only Toyota, Ford and GM in sheer number of patents filed. If their increased patent filing rate continues to increase, look for them to gain ground – and maybe even overtake – even those powerhouses in the industry.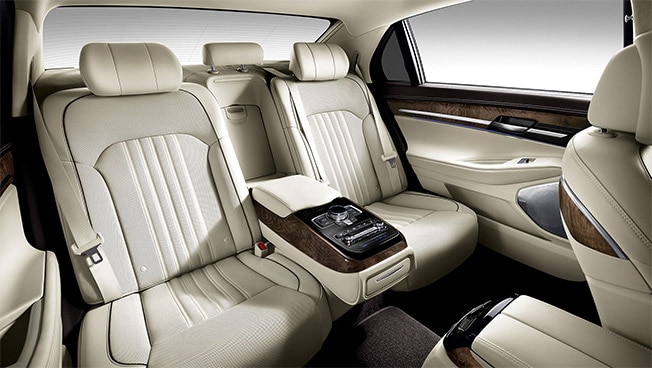 While Hyundai already has an edge on customer satisfaction for its tech features, they're not sitting on their laurels. Most people think of Google when they think of self-driving cars, but Hyundai has actually filed more patents for self-driving automotive tech than the tech giant. Hyundai has also made significant strides in telematics – features that allow drivers to use and synch mobile devices for everything from tracking the car's vitals to navigation to operating many of the car's functions remotely from a smart phone.
So, what kinds of tech features have made the most difference for Hyundai drivers' satisfaction? According to the J.D. Power report, the features most important to car buyers were safety features – specifically, features that helped drivers to avoid collisions such as lane departure warning, back-up cameras, blind spot warnings and collision alerts. Navigation features were also among the most important to drivers.
Of course, satisfaction with your car's tech features starts with knowing what they are and how to use them. One of the most surprising finds of the J.D. Powers survey was that nearly 40 percent of car owners (across the spectrum of makes and models) had vehicles with tech features they never used because they were unaware of them. Whether you buy a Hyundai or any other vehicle, make sure you're working with a sales professional who will take the time to make sure you are aware of your car's tech features.