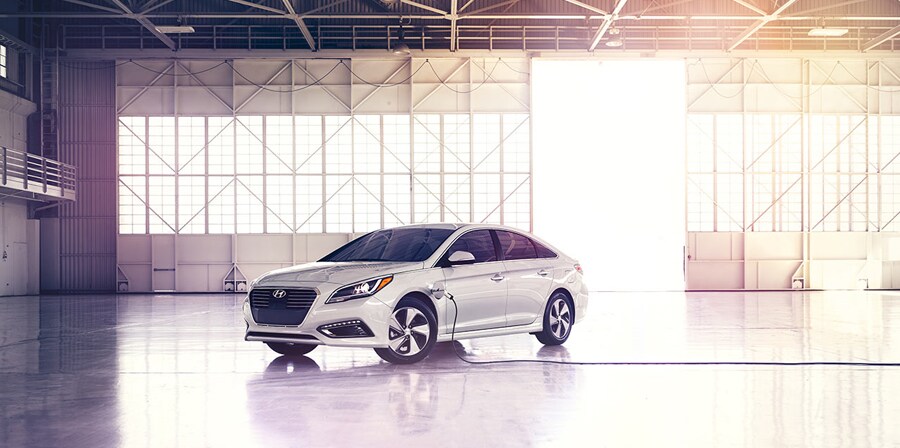 The Design
The 2016 Sonata Hybrid comes in SE and Limited trim levels, and there's an Ultimate package upgrade for the Limited trim that adds a number of safety and convenience features. The 2016 Sonata Plug-In Hybrid, or PHEV, comes in Base and Limited trims.
Exterior styling on the hybrid models include a front and rear fascia designed to differentiate the models and improve aerodynamics. The 2016 Sonata hybrids not only add a little swagger to the sleek and quasi-luxurious styling introduced with the standard 2015 model, they also have an aerodynamic profile.
On the inside, the 2016 Sonata Hybrid and 2016 Sonata PHEV provide exceptional comfort. Options are fairly limited, as the SE hybrid and base PHEV models are packed with standard features that are optional on the non-hybrid Sonata models.
About the Hybrid
Only one engine is offered, a 2.0-liter four-cylinder rated at 154 hp and 140 lb/ft torque. The standard hybrid adds a 51-hp electric motor, while the PHEV gets an electric motor rated at 67 hp. The 2016 Sonata PHEV has a system output of 202 hp, due to its more powerful electric motor. These engines are paired to a 6-speed automatic transmission.
The standard hybrid model uses a 1.6-kWh lithium-ion battery charged by the engine and through regenerative braking. It's most efficient operating in hybrid mode, with the electric motor and gas engine working together to maximize performance and fuel economy.
A Bit About Safety
Standard safety equipment includes the full suite of airbags, including a driver's knee protection bag, and stability and traction control. Forward collision, lane departure and blind-spot warning systems are also available. They're bundled with active cruise control with stop-start technology, rear parking assist and rear cross-traffic warning in both the Hybrid Limited with Ultimate package and the PHEV Limited. Additionally, the 2016 Sonata Hybrid and PHEV models have a "virtual engine sound system. This helps compensate for the lack of noise hybrid associated with hybrid vehicles by emitting simulated engine noises when the car is being operated in EV mode lower than 20 MPH.
Interior Comforts
The 2016 Sonata Hybrid Limited and PHEV Limited have a heated steering wheel, leather seating, heated and ventilated eight-way power driver and six-way power front passenger seats. The Sonata Hybrid Limited also has heated rear seats. The regular and plug-in hybrids contain dual-zone climate systems, while both plug-in models and the Hybrid Limited trim provide air vents for the rear passengers.
The 2016 Hyundai Sonata comes with touchscreen navigation, audio entertainment, phone and navigation. All Sonata hybrid models have system- energy information screens to help drivers maximize fuel efficiency and, in the plug-in models, find charging stations and set charging times to take advantage of power companies' off-peak pricing.
Hyundai also improved cargo space in both the hybrid and plug-in hybrid Sonatas, designing the hybrid's battery to fit in what had been the spare tire well, which gives the trunk a completely flat floor with 13.3 cubic feet of cargo space. Because the hybrid's battery isn't mounted behind the rear seats, those seats can fold flat in a 60/40-split in order to get you more cargo space.
We know you're going to love the newly redesigned 2016 Hyundai Sonata. We've expanded our inventory to include these new models, among other great Hyundai vehicles. Make your way down here to Fort Mill Hyundai, located at 805 Gold Hill Rd in beautiful Fort Mill, SC., to test drive some of our vehicles. Just in case you don't have the time right now, give us a call at 855-553-2053 to make an appointment. We'll see you soon.